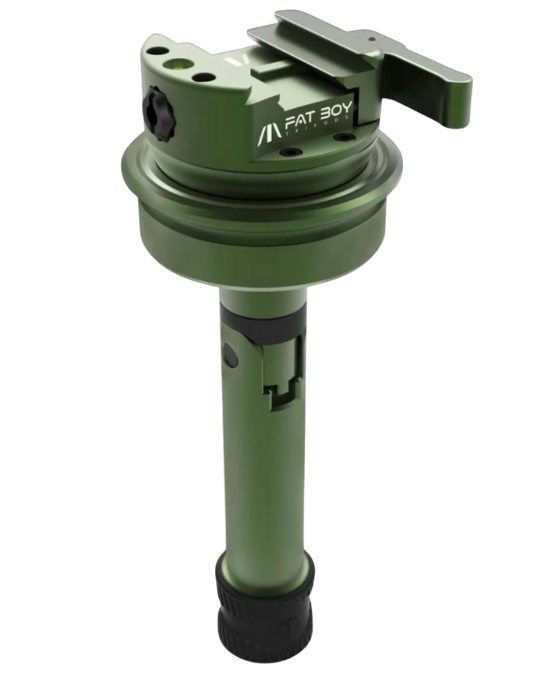 Fat Boy Levitate Leveling Head
Regular price $335.00 Sale
FatBoy Tripods Levitate Level Head


The FatBoy Levitate, the latest addition to our range of cutting-edge shooting accessories. Designed to take your shooting experience to new heights, with groundbreaking technology that sets it apart from other level heads. The key innovation lies in our patent-pending tension concept. Tension is effortlessly adjusted through the thick and grippy rubber knob on the stem, transferring it to the 65mm ball. This unique design provides shooters with an unparalleled level of comfort and ergonomic support, resulting in elevated stability and accuracy.
Versatility is at the core of the Levitate, featuring a top plate compatible with both picatinny and arca systems. This allows for seamless integration with a wide range of firearms and accessories, providing shooters with the flexibility they need in various shooting scenarios. The quick-release lever system further enhances convenience, allowing for swift attachment and detachment of your firearm. Ease of use is paramount with the Levitate, thanks to the user-friendly 5" handle that unlocks and locks the tension. This makes on-the-fly adjustments quick and hassle-free, enabling shooters to adapt to changing shooting conditions with ease and confidence.
The Levitate's 15 degrees of motion provide enhanced maneuverability, allowing you to take your desired shots effortlessly. We are thrilled to announce that the FatBoy Levitate will be available soon, promising to revolutionize the shooting experience for avid enthusiasts. Prepare to elevate your shooting skills and unlock a new level of performance with the FatBoy Levitate!
Features & Benefits:
• 
15 degrees of motion in any direction
• 
Arca/picatinny mount, adjustable to fit all brands of picatinny and arca
• 
Adjustable tensioning stem with thick and grippy rubber knob which can be leveraged as a counterweight.
• 
Stowaway tension wrench