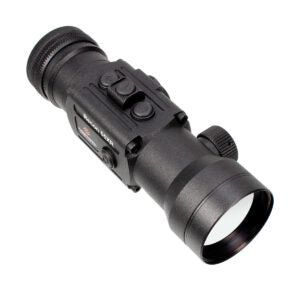 Fusion Thermal RECON 55XR
Regular price $5,899.00 Sale
It's been nearly a decade since thermals scopes started becoming affordable to the average Joe, and since that time there has always been a keen interest in the clip-on concept. It seems like the perfect way to go. You can deploy it when you need it and keep it concealed when you don't. You can move it around from one rig to the next in a matter of minutes offering maximum flexibility to meet changing needs. If designed right it also offered some really great secondary uses like as a handheld observation device. It all seems so perfect. Problem is they just have not performed up to the promise, so adoption of the clip-on by the American shooter has been slow to come. Well, my friends we're happy to tell you that the clip-on has come of age. Enter the Recon 55XR and its groundbreaking optical system called MORE (Magnification Optimizing Range Enhancement). This new technology brings clip-on performance into the modern era by solving the biggest hindrance to clip-on mass adoption, that of being forced to use your clip-on on the lowest magnification settings of your day scope. Gone are the days of using your clip-on with your day scope on 3X and acting happy. The MORE optical system unleashes the full potential of the clip-on concept by allowing you to use significantly higher levels of magnification, usually by a factor of two, occasionally more.
Sometimes it takes years of obsession and serious brain power to make significant technology breakthroughs, but once the barriers are broken great things happens. If your intrigued and want to know more about what the Recon 55XR might do for you, we invite you to take deeper dive into the information we've provided. You just might find that the moment you've been waiting for has arrived.
This variant is optimized for right handed shooters.