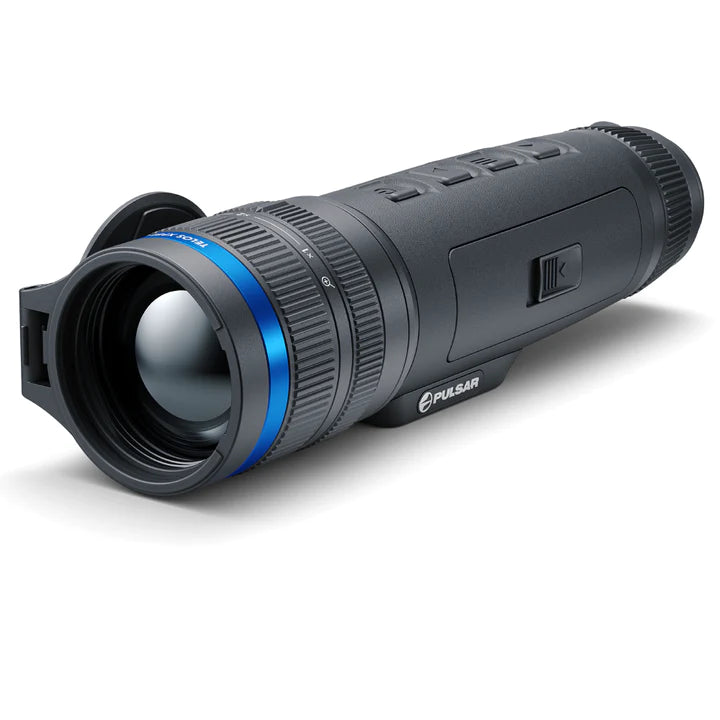 Pulsar Telos XP50
Regular price $3,499.97 Sale
Pulsar is once again at the forefront of innovation with the new Telos XP50 digital thermal monocular. The rapid rate of technological advancement in today's world requires modularity and precision. Pulsar has designed its new Telos XP50 with this in mind. With components and parts that are capable of being upgraded and customized according to the user's needs, The new Telos XP50 ensures cutting edge thermal technology is at your fingertips for years to come.
The Telos XP50 stands as an extremely powerful optic. With an industry leading <18mK NETD sensor and enhanced image processing algorithms, this extremely powerful thermal monocular gives users highly refined details, even in the toughest conditions.
For the first time in a Pulsar product, the Telos XP50's adjustment rings allow users to gradually zoom in and focus in one fluid motion. This fine camera-like digital control system allows smooth magnification adjustments and pristine quality even at high magnifications.
Further enhancing its long-range viewing abilities, the Telos XP50 has a detection range of more than 1,900 yards, capable of detecting human-sized heat sources in the harshest weather.
The Telos XP50 pro is also built to last. From arctic conditions to wetland swamps, this unit continuously provides reliable heat detection. With a temperature resistance of -13° to 104° F the Telos can survive anywhere from the snowfields of Alaska to the rocky wastes of the Mojave.
Outfitted with a brand new LPS 7i quick-charge Lithium-ion battery, the Telos has more than 8.5 hours of battery life and can be charged with any USB-C compatible charging device, including common cellphone chargers. The LPS 7i also supports wireless charging.
Designed for longevity and crafted with care and precision, Pulsar's Telos XP50 is the only thermal monocular you will ever need.
Features:
Microbolometer resolution: 640x480
Frame Rate: 50Hz
Pixel pitch: 17μm
NETD: <18mK
Display resolution: 1024x768
Display type: AMOLED
Objective lens: F50/1.0
Magnification: 2.5-10x (x4 digital zoom)
Detector type: Uncooled ASi
Detection range: 1900 yds
Battery type: LPS 7i Li-Ion 6400 mAh, external power supply: 5V, 9V (USB-C)
Battery life: 8.5 hours
Dimensions: 9.3701 in x 2.8346 in x 3.5433 in
Body material: Rubber armored reinforced plastic
Weight: 25.3oz