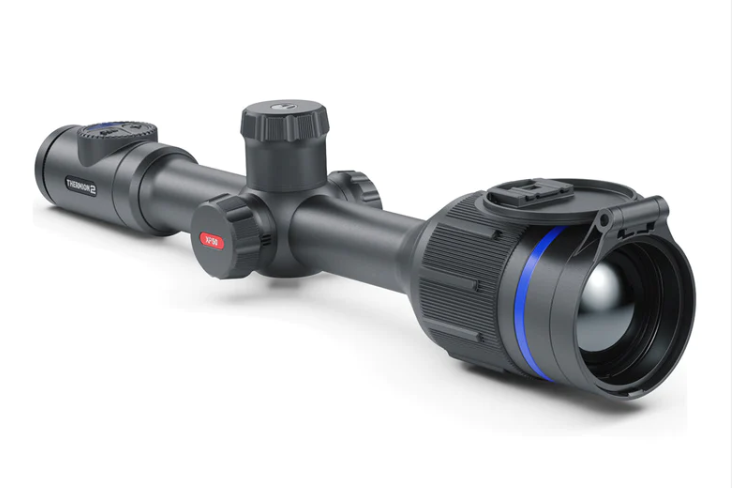 Pulsar Thermion 2 XP50 PRO
Regular price $4,999.97 Sale
Classic design. Mounting on standard 30 mm rings
Classic shape of housing is ideal for all types of hunting and simplifies mounting. Designed from the ground up for ease of use, Thermion riflescopes mount to standard 30mm scope rings. No specialized tools or equipment are required.
Highly sensitive thermal imaging sensor
Thermal imaging sensor with NETD <25mK* value ensures perfect detail recognition even in the most severe weather conditions when thermal contrast is low. The smallest temperature differences in observed objects can be clearly visible during heavy rainfall, dense fog or cold mornings making it easy to recognize and identify the game and its features.
* - Thermion 2 Pro
Fast aperture f1.0 germanium optics
Quality fast aperture germanium optics ensures optimal heat energy transmissivity minimizing noise and improving detail of observed scene.
Extreme detection range
High quality germanium optics coupled with an advanced thermal imaging sensor ensure an unprecedented detection range of up to 2300* metres, even in complete darkness.
* - Thermion 2 XG50
User mode
Use the brightness and contrast adjustments to maximise the detail and informative value of the image in specific observation conditions. The User Mode function saves selected brightness and contrast settings in the device's memory providing optimal image quality for the next use of the thermal imager immediately, with no additional adjustments needed.
Wi-Fi integration with iOS and Android devices. Stream Vision 2 application.
The built-in Wi-Fi module will connect the device with smartphones based on Android and iOS via the Stream Vision 2 mobile application. This combination provides a great opportunity, such as wireless update of the device software, transmission of images to the screen of a mobile device in real time, remote control of digital functions of the device and many others. Users registered in the application are provided with cloud storage space for photos and videos taken with a digital or thermal imaging device.
Recoil Rated up to .375 H&H, 12-Gauge and 9.3x64
Recoil rated up to 6,000 joules for flawless performance on larger calibers up to .375 H&H, 12-gauge and 9.3x64.
Long battery life. Up to 10 hours on a single charge
Thermion 2 riflescopes feature a unique combined battery system consisting of two rechargeable Li-ion batteries internal and external. External rechargeable battery can be hot swapped in a matter of seconds, providing additional time during the hunt.
Thermion 2 XP50 Pro
Main
Sensor
640x480 pix. @ 17 µm (NETD <25 mK)
Field of view (HxV), degrees / m@100m
12.4/21.8