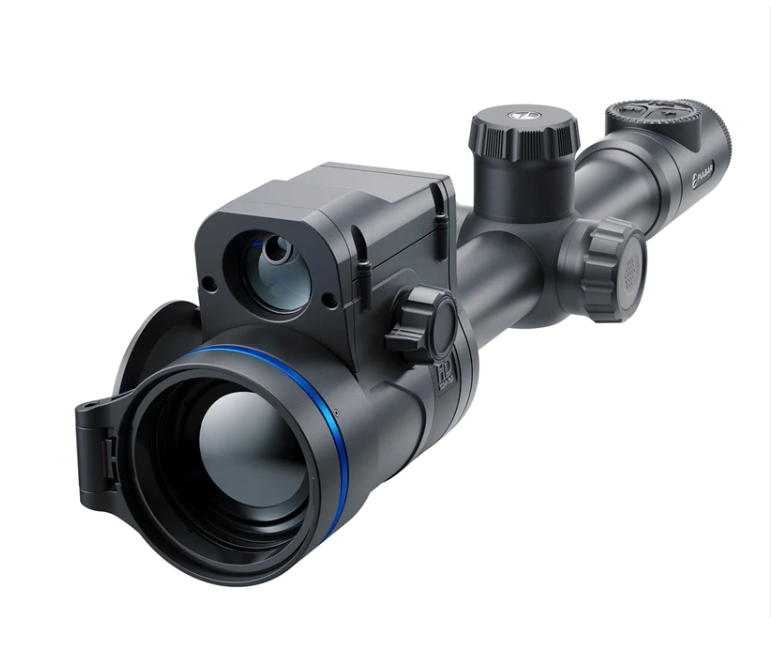 Pulsar Thermion XL50 LRF
Regular price $7,999.97 Sale
Introducing the Pulsar Thermion 2 LRF XL50, a cutting-edge digital thermal riflescope equipped with a laser rangefinder, designed to redefine your shooting experience. This advanced optic features a 1.75x base magnification with digital zoom up to 8x as well as groundbreaking HD thermal imaging, driven by an uncooled a-Si Lynred <35 NETD thermal sensor with an impressive 1024x768 resolution and 12µm pixel pitch, setting a new standard in sensor technology. Complementing this exceptional sensor is an AMOLED 1024x768 display which delivers unparalleled clarity even in complete darkness.
With eight different thermal color palettes suited for long observation and enhanced-contrast heat detection, the Thermion 2 LRF XL50 is highly adaptable to ever-changing environments. High zoom capabilities provide extreme image detail, allowing for precision in your observations. The integrated ballistic calculator empowers long-range shooting, ensuring accuracy and confidence in every shot.
Superior optics in the form of premium HD-class Germanium optics guarantee exceptional clarity and performance, making this riflescope a standout in the Thermion 2 Line. The XL50 boasts the widest field of view in the series, offering a visual landscape like no other. With an impressive 2,500-yard detection range and an 875-yard laser rangefinder, it's well-suited for even the most challenging scenarios.
Control is effortless with the included wireless remote, and extended usage is ensured by the dual Li-ion power system, accommodating both a 2 Ah external battery and a 4.9 Ah internal battery, conveniently chargeable via a USB-C cable. Seamless connectivity is achieved through Wi-Fi readiness and compatibility with the Stream Vision 2 app, facilitating media sharing with 16GB of cloud space. Additionally, the Pulsar Bluetooth wireless remote feature enhances control possibilities.
Adaptability to varying conditions is provided by three sensor sensitivity amplification levels. Constructed from robust aluminum alloy, this riflescope is built for durability and reliability, with an IPX7 fully waterproof rating to withstand challenging weather conditions.
Pulsar's Thermion 2 LRF XL50 is an adaptable high-tech digital thermal imaging system designed to be the future of nocturnal hunting, the perfect addition to any serious hunters' arsenal.
Features:
Base magnification of 1.75x
Digital zoom in increments of 2/4/8
30mm tube
<35 NETD thermal sensor with 1024x768 resolution and 12µm pixel pitch
AMOLED 1024x768 display
8 different thermal color palettes
Integrated ballistic calculator for long-range shooting
The widest field of view (14x10.05°) in the entire Thermion 2 Line
Extra-long 2,500-yard detection range
Built in 875-yard laser rangefinder
Wireless remote control included
Dual Li-ion power system: 2 Ah external battery / 4.9 Ah internal battery
6 hours of operating time
Chargeable with USB-C cable
Wi-Fi ready and Stream Vision 2 app compatible
16gb of cloud space
Compatible with the Pulsar Bluetooth wireless remote, the first Pulsar product to have this feature.
3 sensor sensitivity amplification levels
Made of robust aluminum alloy
IPX7 fully waterproof