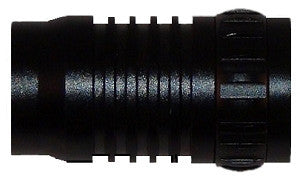 Sniper Hog Lights Dimmer Tail cap
Regular price $17.00 Sale
This dimmer tail cap will work with all our 30LR, 38LRX, 50LR. 50LRX. 66LR
and 66LRX lights. Will not work with any other model lights. Has a dial on the
back of the tail cap that you turn to adjust your lights brightness from 10% to
100%.
Very important Please Read: This dimmer tail cap will not work with
some of the aluminum LED modules we have sold in the past with our 30LR,
50LR and 66LR lights. To find out if your customer has LED modules that will
work with the dimmer tail cap, please take the LED module out of the light and
look at the back of it and if you see numbers all around on the edge of the green board that the spring is attached to then this dimmer tail cap will work with them. Will also work with any of our copper pills. If yours does not have numbers on the board or copper pills then you will have to get new LED modules to work with the dimmer. All our current LED
modules will work with this dimmer.