Thermtec Cyclops 640D PRO
Regular price $3,300.00 Sale
Thermal Imaging Monocular
CYCLOPS-D SERIES

Dual-Field of View

≤25mk NETD

12µm VOx Detector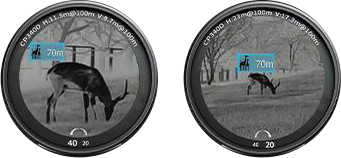 Dual-Field of View with 2x Optical Zoom
A wide FOV with a focal length of 20/25mm can be used for detection; A narrow FOV with a focal length of 40/50mm can be used for identification.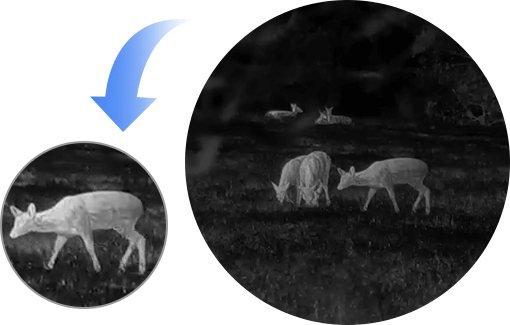 High-Precision Zoom
1.0-6.0X HD zooming ensures excellent sharpness and the highest resolution of details from minimum to maximum magnification.
12 Hours of Work on a Single Charge
Built-in battery with 12H super long capacity, which ensures a pleasant and dedicated outdoor experience without worry.
Joystick Control
The well-designed joystick performs an easy operation on menu operations by toggling the button in any direction.
IP67 Protection Rate
Provided with IP67-rated weatherproof performance, it is protected from heavy rainfall, snow, smoke, smog, or dust.
Lightweight and Compact Size
The compact dimension makes it a lightweight and handy companion wherever you go.
(Detection range up to

 

5500m

)

Two Image Modes
• Designed with both WDR mode and target mode, it captures details clearly under different scenarios as needed. WDR Mode is suitable for high-contrast lighting conditions, while Target Mode helps you to focus more on your targets.

Built-in AI Rangefinder
• Based on deep learning algorithm, the object distance can be automatically measured.

Electronic Image Stabilization
• It provides clear and precise images even in scenes with lots of motion.

Wide Options of Color Palettes
• 6 thermal image pallets with comfortable visual experience, to meet with a variety of environments and weather conditions.

Photo/Video Recorder
• Integrated pictures and video recording makes sharing the thermal action quick and easy, with the functions of playback and APP sharing.

GPS Function
• Enable users to know their coordinates in real time, which makes field activities safer.
| | |
| --- | --- |
| Resolution | 640x512 |
| Pixel pitch | 12µm |
| NETD | 25mk@300k |
| Spectral range | 8-14µm |
| Frame rate | 50HZ |